---
Sharing documents, information, and collecting physical payments from clients can be a challenge for any accounting firm. To add to this problem, our firm has clients spread across rural Alberta. Throw in a global pandemic, and these tasks become even more difficult. I will discuss some of the solutions our firm implemented to overcome these obstacles and the challenges we faced doing so.
Solutions
There were several solutions we implemented for our firm to address specific issues or problems. We are a progressive firm, and I am sure these will be far from the last changes we make in the next several years to ensure our business is as efficient and effective as possible.
Online Portal
Implementing an online portal was a big win for us. It allows customers to upload documents, therefore, reducing the number of emails and physical documents we receive. It also ensured documents were transferred in a secure manner. Finally, it gives the clients the ability to "self serve" by allowing them to find prior-year tax returns and documents which makes the clients more satisfied and ultimately saves our firm time.
Cloud-Based Accounting Software
We have migrated several clients to cloud-based accounting systems in the last year. A solution like Quickbooks Online allows us to periodically check in the client's bookkeeping progress and quality. It allows our firm more visibility into the transactions at year-end and tax time, which ultimately leads to more accurate filings and reporting.
Cloud-Based Tax Software
Switching to cloud-based tax preparation software meant that we could prepare returns from anywhere and at anytime. The system we use is highly secure and is constantly being updated to reflect legislative changes. By switching to a cloud solution, we could completely avoid downloading and installing software updates as they were being rolled. This cloud-based software also helped with concurrency issues for staff working in different locations.
Digital Signatures
We require several hundreds of signatures in a year. Given that we were in a global pandemic the past year, in-person meetings have not always been possible making this a difficult task. Thankfully, the CRA allowed digital signatures to file tax returns on behalf of taxpayers this year. Except for a few returns, all personal returns were signed electronically. The benefit of having the client sign digitally is that document filing becomes easy. Most digital signing software such as Adobe Sign and DocuSign automatically store the signed documents, reducing the time to file and store documents. Generally, the clients like this method as well as they can sign from anywhere with the majority being signed from mobile devices.
Electronic Payments
With the use of a couple of solutions, we have eliminated the need for physical payments such as cheques. One solution we implemented was Rotessa's payment processor. Using a solution such as Rotessa's payment processor ensures we get paid when we should be. No more making collection calls or fretting over large receivables. This solution also allowed us to offer clients monthly billing, spreading the cost over the year, without adding administrative burden to our firm. The biggest benefit of Rotessa that makes it stand out from other competitors is the pricing! We have always been hesitant to allow credit card payments because of the high fees of 2.5+% per transaction. However, with Rotessa, the fees are significantly less. As an added perk, Rotessa has a Quickbooks Online integration, making invoicing and recording payment seamless in our accounting system.
Virtual Meetings
After a year of virtual meetings using software such as Zoom or Microsoft Teams, I think we have all learned the value they can provide. I think back to just over a year ago when turning on a video camera for a meeting was awkward. Now it has become the norm. Although, there will always be a time and place for face-to-face meetings for certain situations, I think the past year has shown us the value that the platforms bring us. They save our clients from having to drive to our office. They save us time as we can quickly switch from one meeting to the next. They also allow us to meet with someone almost wherever they are, allowing our firm to serve a larger geographic area.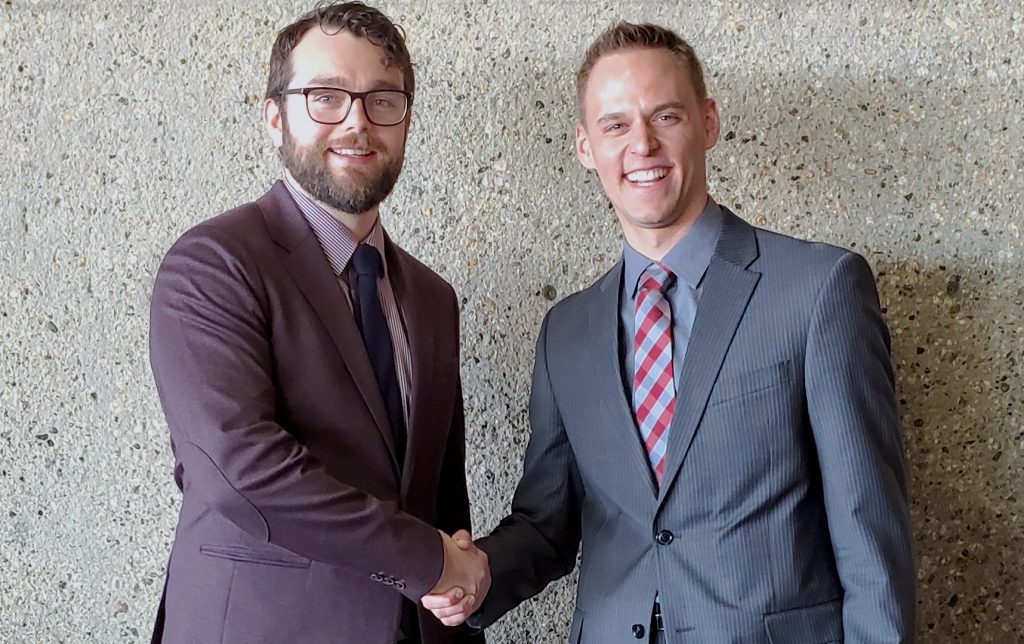 Challenges
There are two main challenges in implementing a technology solution. I will discuss the challenges our firm faced and how we dealt with them.
Selecting, implementing, and maintaining the technology
This typically involves collecting client data in some form, such as email address, names, phone numbers, bank accounts numbers, etc. and importing it into the new system. The system also must be configured to meet the needs of your firm. No matter the size of the project, I would suggest creating a project plan of which tasks need to be completed, the order and importance of each task. Each task should be assigned to a person and assigned a due date. This will ensure no task gets missed and is the implementation is done in an appropriate amount of time. I typically do this in a Gantt-style Excel spreadsheet. Do not overcomplicate how it is set up.
Depending on the size of your business and the system you are implementing, you may want to consider bringing in an external system integrator. Some software companies will offer this as part of the onboarding but usually comes at a cost. I highly recommend this route if you are not familiar with the software or have limited IT experience. All too often businesses will skimp and save in this area and end up with a half operational system with various workarounds. It is better to put in the effort upfront and fully maximize a system you are paying for.
Some might see that as the only step to implementing a new technology solution, although it is only half of the equation. However, it is an important step nonetheless as will determine the success with the second challenge, getting clients to buy-in!
Getting "buy-in" from your clients
This can be the more difficult challenge of the two. People are creatures of habit and generally do not adjust well to change. As much as possible, try not to make exceptions for any client. It is easy to revert to an old method of doing something if a client is struggling with technology. Instead, coach the client to understand the system as much as possible. You will invest more time upfront but will thank yourself later!
You should also take this into great consideration when designing or configuring your system. A system is only as good as it will be used. If you can make life easier for your clients or employees there is a much high probability you will get "buy-in". For example, if you are switching from physical to digital signatures, make sure to pick a system that is convenient for your clients. If they must go through a whole process to sign one document, they will likely get frustrated and be less willing to do it. If it's simply one or two clicks of a button to sign, chances are they will find this more convenient than driving to your office to sign a piece of paper. Convenience truly is the key to getting "buy-in" from your clients.
With all these solutions, we have become a firm that is able to offer a complete accounting solution for small businesses that allows for a monthly billing model and makes our client experience one of convenience.