How long do ACH payments take?
How fast do you like to get paid? Of course, most consumers today carry credit cards or use a smartphone wallet. Card transactions generally take 1-2 (sometimes 3) days to process, but their relative speed comes with a steep processing fee of 2 to 4% per transaction. ACH payments are an excellent alternative to cash and card, especially for recurring charges. ACH payments are incredibly reliable and cost-effective, but you may be wondering: how long do ACH payments take? As it turns out, the ACH timeline is only a little longer than that for credit cards. An ACH transfer usually takes 3-5 days. This slightly longer timeline is a small price to pay for the security and affordability ACH payments offer.

Who facilitates ACH payments?
ACH payments involve crediting or debiting money directly from one bank account to another. There is no credit card middleman, just an ACH network of operators who move the money from one bank to another. The ACH network is managed by NACHA, the National Automated Clearinghouse Association. NACHA is not a government organization, but a nonprofit made up of the very organizations it services—banks of all sizes and large businesses and institutions. The ACH process outlined by NACHA is largely responsible for determining just how long an ACH payment takes to process.
While NACHA oversees the ACH network and formulates its rules and regulations, there are several other players in the ACH game, including the Federal Reserve and the Electronic Payments Network (a private sector operator). Then, of course, there are the banks that send and receive money, known as the ODFI (originating depository financial institutions) and the RDFI (receiving depository financial institutions). The exact ODFI and RDFI will depend on who your customer's bank is and who your merchant bank is.
These banks also facilitate the ACH payment by processing and submitting ACH files – payment requests – to the ACH network. Each bank has its own processes and procedures for how this is done, which can impact the overall ACH payment timeline. Third-party payment processors (TPPPs) also play a role in processing ACH transactions.
Of course, you also play a role in facilitating the ACH payment, by collecting the payment information. When you input all the information correctly, such as the customer's account and routing numbers, you will greatly decrease the time it takes to process an ACH transaction, because you won't have to deal with any ACH payment rejections.
How long do ACH payments take to post?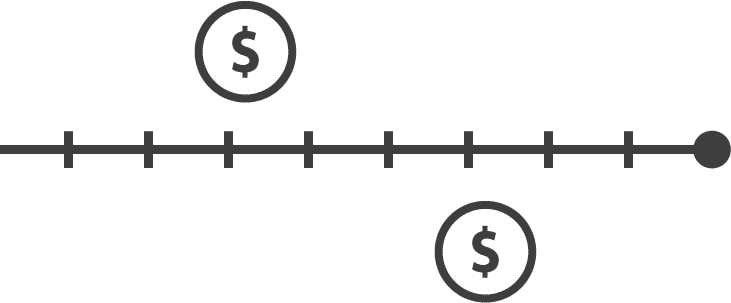 ACH payments generally take a maximum of three days to settle. Obviously, they are not instant because they need to go through the ACH network. ACH operators send payments in batches and only three batches per business day. This means that if you missed the last batch of the day, you'll have to wait until the next business day. The same is true if you missed your bank's last batch of the day (the batch they send to the ACH network).
Both the Federal Reserve and the Electronic Payments Network continue working towards making the money move faster, due to consumer demand. Recently, NACHA has enabled same-day processing capabilities – fittingly named Same Day ACH – for both credit and debit transactions. However, it's only available for transactions under $25,000, there are additional fees, not all banks participate, and it's only available for domestic transactions.
Sometimes a regular ACH payment takes up to five business days to process and settle. This 3 to 5-day timeframe is actually about the same amount of time it takes to receive American Express payments, and only a day longer than VISA or Mastercard payments. When you consider that ACH payments don't come with those steep credit card processing fees, the possibility of waiting one more day to get your money seems worth the wait.
Why do ACH payments take as long as they do?
Now that we've answered the question – how long do ACH payments take to clear – you're probably wondering about the reason behind the ACH timeline.
ACH payments take several days because your bank has to send an ACH file to the ACH operators, who then send it to the bank of your customer or client. The RDFI (that is, the bank receiving the request for a credit or debit) has 48 hours to report a return code—anything like R01 (insufficient funds), R02 (this account is closed), R04 (invalid account number) or any of the other two dozen or so codes. If no return code is reported in the allotted time frame, the payment will settle, and you will see those funds in your account.
Of course, if it doesn't, you'll need to respond to the return code, usually by contacting your customer and making sure you have all their financial details correct, or tactfully dealing with insufficient funds by making alternate arrangements.
Usually, your transactions will go as planned because ACH payments are tied to bank account numbers, which don't change, unlike credit card or debit card numbers. Overall, the ACH process is much more secure than credit card or check transactions, either of which can more easily be subject to fraud.
In fact, the slightly longer timeline of ACH payments is really their only drawback. In addition to the security and consistency, they cost far less per transaction than paper checks and especially credit cards. The average ACH transaction costs a merchant just $0.29, while checks are estimated to cost a business anywhere between $4 and $20 per check, and credit card transactions cost percentages ranging from 2% to 4%.
Any business that collects payments on a recurring basis would benefit from using ACH payments, and the ACH timeline is really the only drawback – and a light one at that, considering that in most cases they take only a day longer than a VISA or Mastercard charge. The fact that ACH payments use unchanging bank account numbers avoids missed payments. Their fees are lower. And the ACH network eliminates credit card and check fraud.
How to start using ACH payments
If your business involves collecting subscriptions, memberships, tuition, rent, or recurring bill payments, then ACH payments should be your go-to method for collecting money from clients and customers. Yes, it will take a little bit longer for payments to settle, but the benefits of ACH payments – security, consistency, cost – far outweigh this slight negative.
Take a look at what more than 2,000 different businesses in a variety of industries are saying about Rotessa. Once you check out our free ACH authorization tool, you'll see how our no-minimum-spend plans can save your business money while adding peace of mind to your payment collection.
Withdraw money directly from your customer's bank account when their payments are due. Schedule one-time or recurring payments to get paid on time.