How to choose the best ACH payment processor
If you're a small business that collects recurring bills (like rent, tuition, or subscription fees) or you invoice large payments, ACH is the best solution for payment processing. Using a Third-Party Payment Processor (TPPP) makes it easier to collect those payments easily and on time. There are several TPPP software options available to small businesses. These ACH payment processors offer unique features and pricing models.
Top ACH payment processors — pricing comparison table
Here's a quick look at seven popular ACH payment processors and their pricing details compared.
| ACH Software | Pricing |
| --- | --- |
| | Tiered fixed pricing. Starting at $16 a month to as low as 35¢ per transaction. |
| | Percentage-based pricing. 1% plus 25¢ for domestic US payments (capped at $2.50 per transaction). |
| | Undisclosed |
| | Subscription and percentage-based. $25 a month plus 0.75%. |
| | Percentage-based pricing. 0.8% (capped at $5). |
| | Percentage-based pricing. 0.5% plus 25¢ per transaction. |
| | Subscription and per-transaction based. 25¢ per transaction plus a 15$ monthly fee and a one-time $99 setup fee. |
Why Does Your Business Need ACH Processing?
Setting up ACH payment processing is just as easy as getting set up to collect credit card payments – and ACH payments are just as easy for customers and clients to make online; ACH payments use a checking account and routing number instead of a credit card number.
Collecting your customers' banking info and authorizations online can be quite seamless – especially with the right ACH payment processor. A customer is going to have to grab a credit card and type in the number anyway, so there's no reason why you can't have them type in their banking info instead.
ACH payments go through an automated process that requires no follow-up from you or the paying customer. Payments are made through the ACH network, managed by operators under the auspices of NACHA – the National Automated Clearing House Association. Money is directly transferred (debited and credited) from one bank account to another.
Things to Consider When Choosing an ACH Processor
For most businesses, the easiest place to get started collecting ACH payments is by looking for a TPPP or ACH payment processor. There are several things to consider when choosing the right ACH payment processor for your business.
Pricing
The pricing model of a TPPP varies from one provider to another. Some pricing models have minimum transaction volume requirements, while others charge a percentage and a flat rate fee per transaction. Some TPPPs might have setup fees that ultimately make the pricing less attractive. The best situation for collecting ACH payments is paying a flat rate per transaction.
User and Customer Experience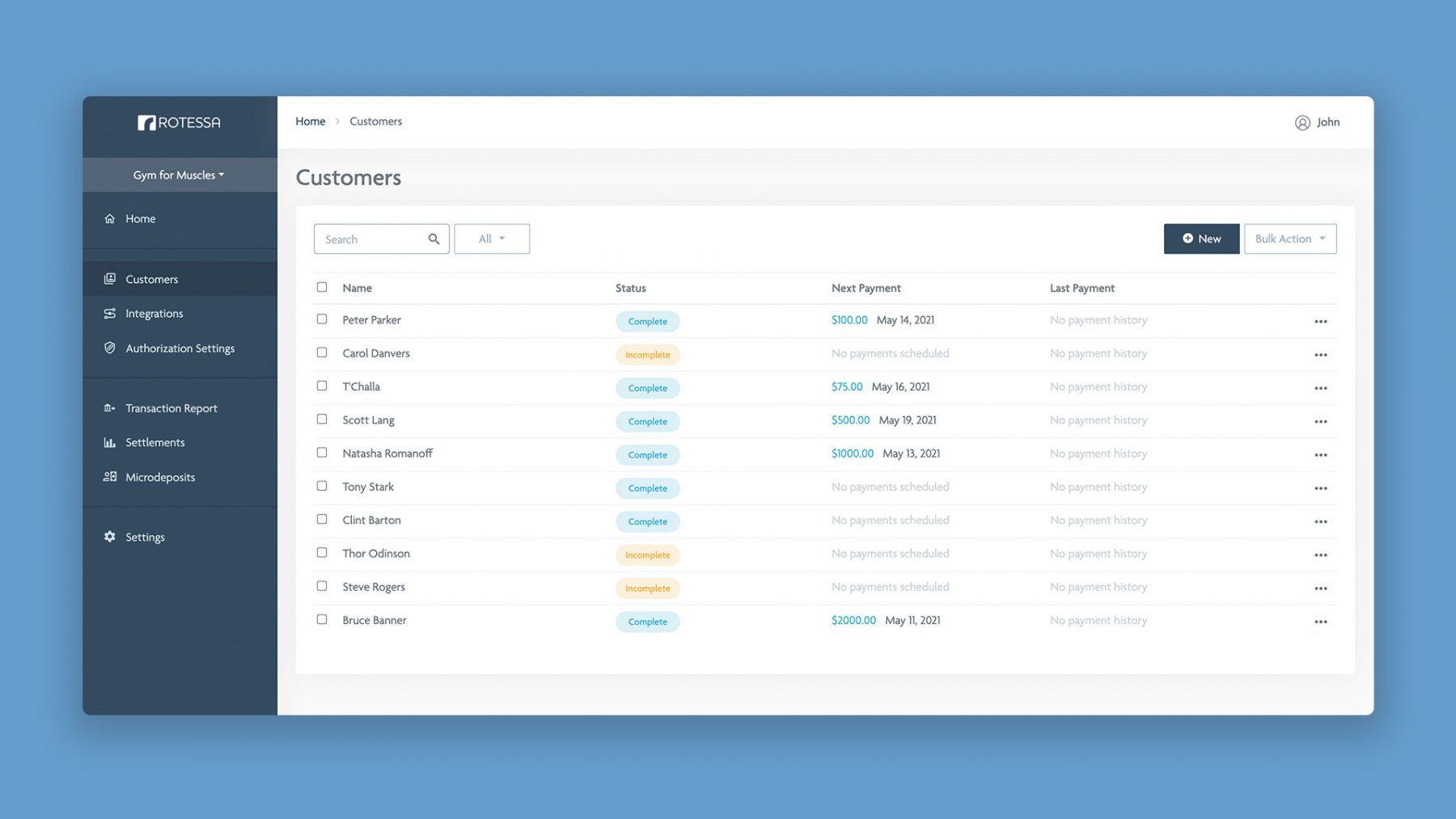 Another consideration is what the payment experience will be like for yourself and your customers. If a TPPP does not offer a user-friendly authorization form or payment portal, it can create some problems – and nobody wants problems when they are trying to get paid.
Some TPPPs offer free tools like customizable authorization forms that can be sent via email or a unique URL. Others have bank account verification or microdeposits to prevent fraud and to confirm bank account information.
Seven Third-party ACH Providers
How to Start Collecting ACH Payments With a Processor
Once you've found a TPPP, like all ACH payment processors, they will need to collect some basic information about your business in order to facilitate ACH payments. At Rotessa, for instance, we require information about your business such as the address, owner's contact information, and the settlement account. Collecting this information is a painless process.
You will also want to select a TPPP that takes its business seriously and is responsive to customer issues. One way to gauge this is just by looking at the TPPP's website. Does it look professional? Are customer testimonials present? A reputable ACH payment processor will pride itself on being available and accommodating.
Conclusion
In summary, any business that collects payments on a recurring basis would benefit from using ACH payments. If your business involves collecting subscriptions, memberships, tuition, rent, or recurring bill payments (even of varying amounts), then ACH payments should be your go-to method for collecting money from clients and customers.
In order to really make ACH payment processing a hassle-free experience,  you need to leverage the service of ACH payment processors. A TPPP like Rotessa can provide frontline security, seamlessly collect payments, and integrate into your accounting software, all at a great price.
Take a look at what more than 2,000 different businesses in a variety of industries are saying about Rotessa. Once you check out our free ACH authorization tool, you'll want to speak to an account manager and see how our no-minimum-spend plans can save your business money while adding peace of mind to your payment collection.
Withdraw money directly from your customer's bank account when their payments are due. Schedule one-time or recurring payments to get paid on time.