Once you've seen how ACH payments can help your business by lowering payment processing costs and reducing customer churn, you might be wondering: how do I set up ACH payments? In order to collect ongoing or even one-time payments directly from a customer's bank account, you will need to set up an ACH authorization form. As it turns out, you can't just scribble down a customer's banking information on the back of a spare receipt. There is a specific format for setting up your ACH authorization form, and certain rules must be followed to protect the customer — and you as well.
What Is an ACH Authorization Form?
An ACH authorization form also called an ACH payment form, facilitates ongoing or one-time withdrawals from a customer's bank account via the ACH network. To keep it brief, this international network involves sending payments from one bank to another, in several batches throughout the business day. ACH payments are not made using credit card or debit card numbers, but actual bank account and routing numbers. When a customer hands you a credit card, they are giving you permission to take a payment or set up a recurring payment processed (in part) by the card company. ACH payments are different: they involve directly debiting or crediting cash from one account to another.
That said, there is no magnetic stripe to swipe, chip to insert or contactless tapping to be made. You need bank account information, which creates the need for an ACH payment form. In order to have customer payments processed as part of this network, you need the customer to authorize the payment. This can be done with an online form, paper form, or even over the telephone. While your merchant bank likely facilitates ACH payments, most businesses will use a third-party payment processor (TPPP) that integrates into accounting software or a consumer-facing website.
Requirements of an ACH Authorization Form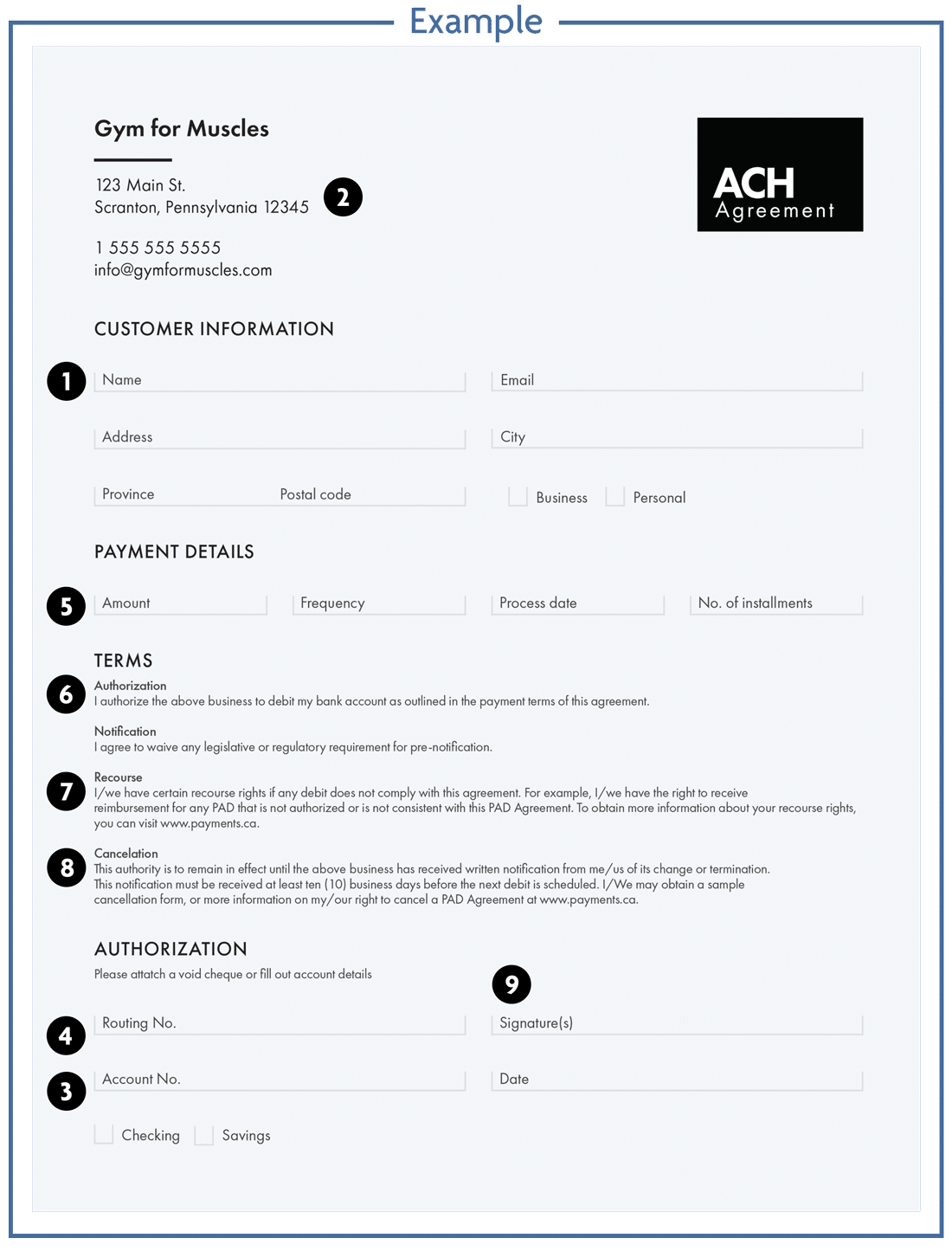 Payor's name

Your contact information

Payor's bank account number and indication if this is a checking or savings account

Payor's bank routing number

Amount and timing (for recurring and one-time payments)

Authorization statement

Recourse statement

Cancelation details

Date of agreement and signature (if a physical paper form)
The National Automated Clearinghouse Association (NACHA) is a non-profit organization that sets the standards for ACH payments. Minimum form requirements include the collection of necessary banking details, an explanation of how the payments can be canceled (and the terms thereof, such as any notification period), and of course, the request for permission to collect payment. When it comes to banking details, your business ACH authorization form must collect the customer's name, account number (checkings or savings), routing or ABA number, the amount not to be exceeded, frequency, start date, and email (for online ACH authorizations). Though these details are required by NACHA, the FTC (Federal Trade Commission) provides Americans with consumer protection laws, and individual states have consumer protection laws as well. These laws protect your customers, but they also protect you from potential lawsuits, as long as you follow the requirements spelled out for each method of collecting an ACH payment: paper, online, and over the phone.
Different Ways of Collecting ACH Authorization

Paper Authorization Forms
Paper ACH payment forms do not have a standard layout, but they do have certain requirements (listed above). Once the form has been filled out, you need to give the customer a copy of the form and retain the original for at least two years after the authorization has been revoked (usually this will be right around the final payment). As you might guess, paper forms are subject to human error. To avoid the fallout of an honest mistake, it's good to use pre-notifications.

Online Authorization
The most common way to collect ACH payment authorization is online. Online ACH payment forms must collect all the information outlined above (name, banking info, amount, dates, etc.). An online form also requires sending the customer a written receipt of their payment, however, that can be sent via email. Businesses using a TPPP to collect ACH payments online do not require an annual audit, but businesses not using a TPPP must be audited annually for network security.

Phone Authorization
ACH payments can also be collected on the phone, but the FTC has additional requirements in this case: you must have an existing relationship with the customer already, and the call must be customer-initiated. An existing relationship is defined as a customer having purchased anything from you in the past two years, or having a written contractual relationship. Additionally, phone calls must be recorded, or written notice sent to the customer, and this record must be retained for at least two years after the termination of the authorization. ACH payments set up over the phone must also follow a specific script that includes everything required on the paper form, along with additional language clarifying the nature of the transaction.
Collecting Authorization Forms With Third-Party Payment Processors (Or TPPP)
As you can see, there are a lot of rules associated with ACH authorizations collected over the phone, and some risk of error (or losing record) of a paper ACH payment form. Therefore, the most secure and easiest way (for both the customer and you) to collect ACH authorization is online. There are no rules on how you build your ACH form or how it should look. As long as you have the necessary requirements, you can choose to make it on your own.
As mentioned, while banks usually offer online ACH payment forms, they usually lack a friendly user experience and do not integrate with other online business software. That's where a TPPP comes in. TPPP's, like Rotessa, integrate into your payment collection practices for a seamless customer experience, and they can easily integrate into your accounting software and other backend operations.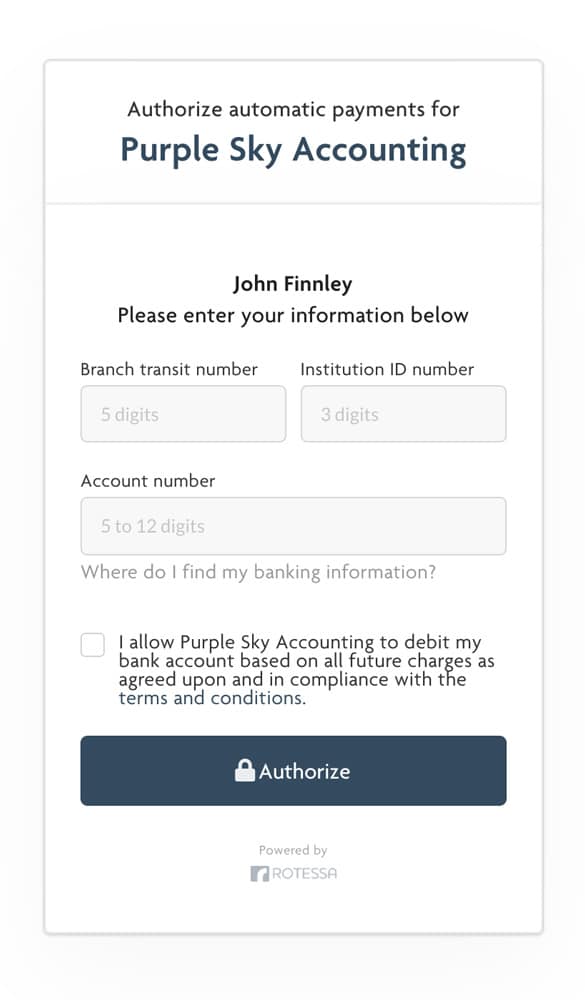 Some TPPPs offer an authorization form tool where you can create, edit, send, and collect your authorization forms for free. These tools let you customize an ACH form with your logo, text, and additional fields. Rotessa, as an example, has a free tool that provides three ways to send and collect ACH authorization.
The first option is to send an authorization request email to single customers or in bulk. This email contains all the necessary requirements for an open authorization from your customers. Once completed it is saved in their Rotessa customer profile.
As a second means of collecting authorization, Rotessa provides a personalized link for your authorization form. You can paste this link in an email to your customer or embed the link on your company website.
The third and final option is to print out a template and collect authorization via paper forms. Because this agreement is between you and your customer, these physical documents can be kept in your own file folder rather than stored online with Rotessa.
Cancelation of an Authorization
Remember that legally there are payor and payee protections that must be followed, such as a cancellation period (for instance, how many months a customer has to cancel an ongoing payment) or required notification peridot (that is, how much notice a customer must provide before canceling a payment). As mentioned earlier, your ACH payment form must include information about how the ACH payment can be revoked—for instance, by placing a phone call, filling out a form, or sending a request in writing. Once that is received, you will need to cancel the ACH payment, and you can do so right through the dashboard of your payment processor. Remember that you will still need to retain a record of the agreement for at least two years.
Learn more about canceling an ACH agreement here
Withdraw money directly from your customer's bank account when their payments are due. Schedule one-time or recurring payments to get paid on time.