ACH Authorization Form: How to Create One
Before you debit your customer's bank account through the ACH Network, you are required to obtain their authorization.  To receive and document this authorization, your customer is required to complete an ACH authorization form. Let's discover exactly what an ACH authorization form is, why it's important and how to create one.
What Is an ACH Authorization Form?
An ACH authorization form also called an (ACH payment form) is a legally required agreement that outlines the payment terms between a payor and payee for bank to bank payments over the ACH network. The ACH network is an electronic settlement system that clears and settles bank payments for businesses.
Unlike most payment methods, ACH debits can be initiated by the payee (your business) after the payor (your customer) gives the authorization to do so. This ensures businesses get paid (according to the agreed-upon terms) without waiting for customers to initiate payments. ACH is the perfect payment method for businesses that collect recurring payments.
Let's walk through the specific requirements of an ACH authorization, acceptable formats and the notification requirements.
How to Create an ACH Authorization Form
Obviously, you cannot just scribble down a customer's banking information on scrap paper for an ACH payment. There are specific rules to follow when creating a compliant ACH authorization form. These rules have been created to protect the payor and the payee.
The whole point of the authorization form is to ensure the payment terms are clearly outlined so there is no confusion and that both parties are on the same page. The National Automated Clearinghouse Association (NACHA) is a non-profit organization that sets the standards for ACH payments and authorizations and governs the process to ensure it is safe for all parties involved.
Requirements of an ACH Authorization Form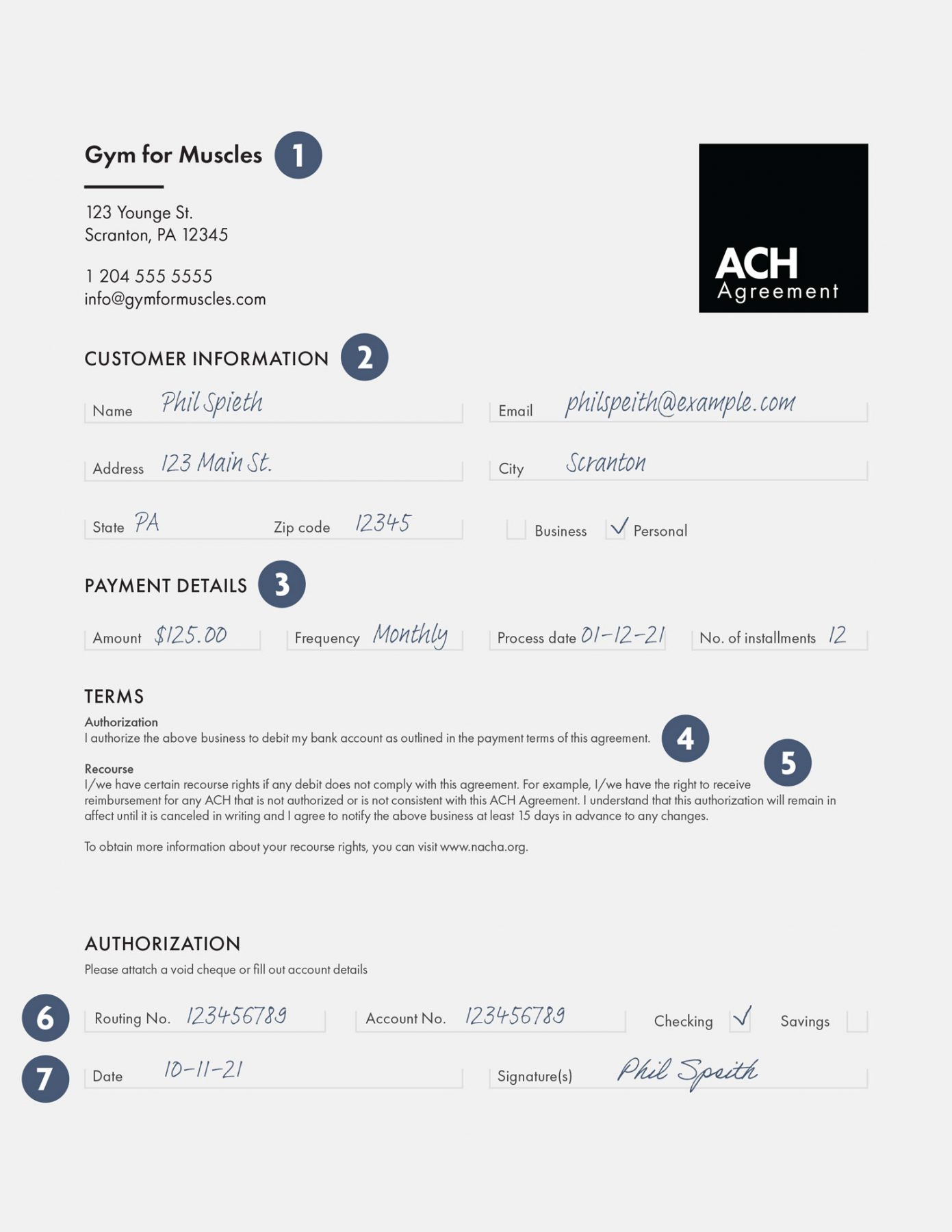 There are seven required items for a compliant ACH authorization form. They are:

Payor's name and contact information
So that the payee can get in touch with the payor.

Payee's name and contact information
So that the payor can get in touch with the payee.

Payment details
Is the agreement authorizing a set payment amount on a set schedule or variable payments? If variable, a maximum amount limit needs to be defined. Is it a one-time payment or recurring? If recurring, the number of installments should be defined.

Authorization statement
Readily identifiable as an authorization for ACH debits.

Recourse statement
Clear instructions on how to cancel the agreement and how far in advance this request has to be made to be in effect.

Payor's bank details
Payor's bank routing number, account number and indication if this is a checking or savings account.

Date of agreement and signature
A signature is only required for physical paper authorization forms.
Acceptable ACH Authorization Formats

Paper Authorization Forms
Paper ACH authorization forms do not have a standard layout, but they do have certain requirements, as described above. Once the form has been filled out, the customer needs a copy of the form and you (the business) must retain the original form for at least two years after the authorization has ended. This is often the easiest and most efficient way to collect authorizations if you regularly see your customers in person.
Free ACH Authorization Form Generator
Create and download your own ACH authorization form with our new generator tool.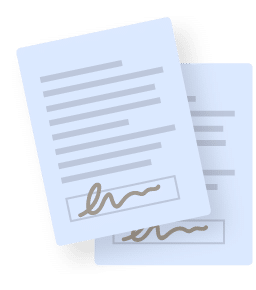 Online Authorization
Technology now allows business owners to serve customers that they will never meet in person (and cannot obtain a physical ACH agreement from). The good news is NACHA also allows you to collect an ACH authorization online.
Aside from a signature, all of the core requirements remain the same for an online ACH authorization form with the addition of needing to validate the submitted bank information. Essentially this means you have to verify the identity of the account holder and ensure that they are connected to the bank account information they provide. This process mitigates fraud and the risk of someone entering the wrong account details.
Here are the two most common ways to validate account details online:
Instant Bank Verification

Most recently, the trend in ACH payments is to validate a customer's banking information through online banking credentials. In this method, a user enters their online banking credentials through a third-party verification service set up by a third-party payment processor (TPPP). Credentials are securely passed to the financial institution and account details are pulled and verified. The verification service ensures it is "read-only" access.

Micro Deposits

A second way to verify bank account details online is with micro-deposits. When a payor completes an authorization online, the payee sends two small deposits (credits) to the bank account of the payor. These two credits (usually under 10 cents) act as a "secret key" that the payor must successfully identify. When the payor identifies the correct amount of the deposit back to the payee, it can be determined that the payor is, in fact, the owner of the submitted bank account. The downside of this method is that the process is not instant with a timeline of one to two days for the micro-deposit transfer.

Phone Authorization
ACH payments can also be collected on the phone, but there are additional requirements. Firstly, you must have an existing relationship with the customer already, and the call must be customer-initiated. An existing relationship is defined as a customer having purchased anything from you in the past two years, or having a written contractual relationship. Additionally, phone calls must be recorded, or a written notice sent to the customer. This record must be retained for at least two years after the ending of the authorization. ACH payments set up over the phone must also follow a specific script that includes all the details required on the paper form, along with additional language clarifying the nature of the transaction.
ACH Authorization Notification Requirements and Record-Keeping
As previously mentioned, the purpose of an ACH agreement is to ensure both the payor and the payee are on the same page. This common-sense approach continues with notification requirements.
When an ACH agreement is first created, the payee is required to provide a copy of the ACH agreement to the payor regardless of how the authorization is obtained – whether that is through paper, online or over the phone. Payees are required to keep a record on file two years from the termination or revocation of the authorization.
There are also two additional circumstances that require notification:
A change to the frequency of payment
A change in the amount that exceeds the authorized limit
If the frequency of the ACH debit changes from what is stated on the ACH agreement or the amount exceeds the agreed-upon limit, the payee is required to notify the payor 10 days prior to the next payment date.
With this in place, it is also acceptable for the payor and payee to mutually agree to the change and move up the timeline of the next payment.
Cancellation of an Authorization
Remember that legally there are payor and payee protections that must be followed, such as a cancellation period (for instance, how many months a customer has to cancel an ongoing ACH payment) or required notification period (that is, how much notice a customer must provide before canceling a payment). As mentioned earlier, your ACH payment form must include information about how the ACH payment can be cancelled—for instance, by placing a phone call, filling out a form, or sending a written request in writing. Once the request for cancellation is received, you are required to cancel the ACH payment.
Learn more about canceling an ACH agreement
Collecting Authorization Forms With Online Third-Party Payment Processors (Or TPPP)
There are a lot of rules associated with ACH authorizations collected over the phone, and some risk of error or losing record of a paper ACH payment form. Therefore, the most secure and easiest way, for both the customer and you, to collect ACH authorization is online. There are no rules on how you build your ACH form online or how it should look. As long as you have the necessary requirements, you can choose to make it on your own.
As mentioned, while banks usually offer online ACH payment forms, they usually lack a friendly user experience and do not integrate with other online business software. That's where a TPPP comes in. TPPP's, like Rotessa, integrate into your payment collection practices for a seamless customer experience, and they can easily integrate into your accounting software and other backend operations.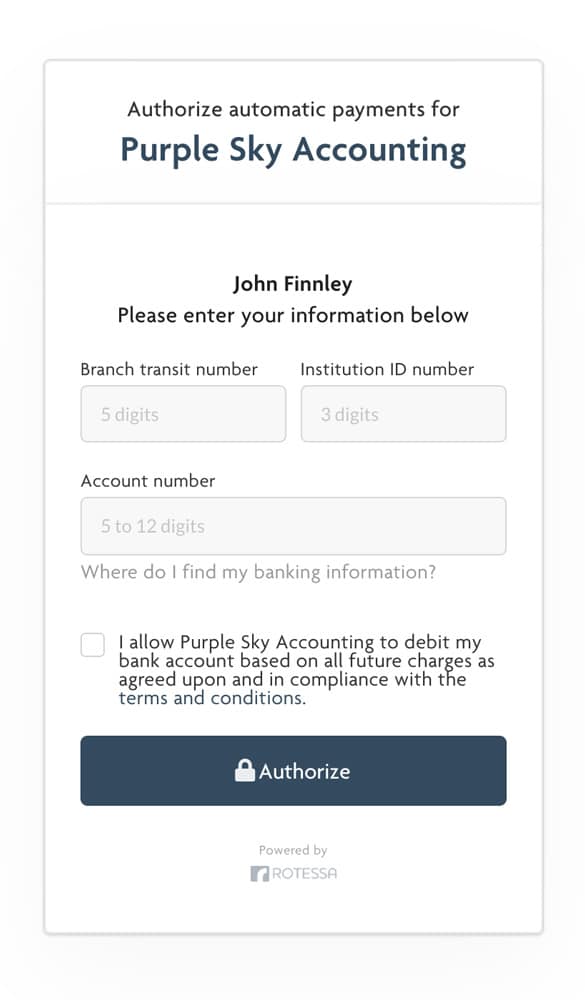 Some TPPPs offer an authorization form tool where you can create, edit, send, and collect your authorization forms for free. These tools let you customize an ACH form with your logo, text, and additional fields. Rotessa, for example, has a free tool that provides three ways to send and collect ACH authorization.
The first option is to send an authorization request email to single customers or in bulk. This email contains all the necessary requirements for an open authorization from your customers. Once completed it is saved in their online Rotessa customer profile.
As a second means of collecting authorization, Rotessa provides a personalized link for your authorization form. You can paste this link in an email to your customer or embed the link on your company website.
The third and final option is to print out a template and collect authorization via paper forms. Because this agreement is between you and your customer, these physical documents can be kept in your own file folder rather than stored online with Rotessa.
You're all set to start ACH processing
ACH payments are an incredibly powerful way to get paid. You save money over credit card processing, get to initiate the payments, and avoid the hassle of checks. Now that you are familiar with ACH authorizations, you are one step closer to getting paid!
Withdraw money directly from your customer's bank account when their payments are due. Schedule one-time or recurring payments to get paid on time.